The Antenna Feed Line Noise Cancel prevents induced RF currents from traveling along the outer surface of the antenna feeder shield without affecting the signal inside the coaxial cable resulting in a considerable increase of the received signal quality.

Those induced currents on the coaxial cable braid are going forth and back from/to antenna and the radio station. They can be generated from multiple near sources such as running parallel cables, computers, power line networking, LED and lamp dimmers and other electric or electronic appliances. Such noise can be an issue especially in the lower section of HF spectrum, where weak signals sometimes are completely masked by all kind of buzzes, impulses and other exotic noises.

This issue is more noticeable on installations running large lengths of antenna feeder cable. Urban antenna installations are more prone to be affected.
Local induced currents on antenna feed line can increase noise floor, create signal distortion, damage the sensible input circuitry of any radio and in worst scenarios may crash any computer plugged to the radio.
Up to 40dB of noise rejection, at low frequencies, can be achieved. Noise being directly picked up by the antenna will not reduce.
The Antenna Feed Line Noise Isolator is connected in series between the antenna and the radio and preferably located outside the station, before unwanted currents get near the station wiring.
The Antenna Feed Line Noise Isolator will let pass through DC current, which is useful in situations where an active antenna, preamplifier, etc. device is powered through the coaxial cable.
The Antenna Feed Line Noise Isolator works well with any kind of antenna especially with long wire models.

Features:
- Suitable for any kind of radio analogue or digital.
- Frequency range: 10 kHz to 60MHz.
- Flat response along the covered range of frequencies.
- Insertion loss: < 0.5dB typical.
- Input/output impedance: 50 Ohm.
- Power rating: 200 Watts PP
- Weatherproof assembly.
- Lets pass through DC current to power antenna devices (preamps, etc.)
Connectors:
"N" or SO-239 options available. ("N" type recommended).
- Enclosure:
Cover: ABS material rated to UL 94V-0. Protection IP65.
Chassis: 2mm thick treated Al.
- Stainless still screws.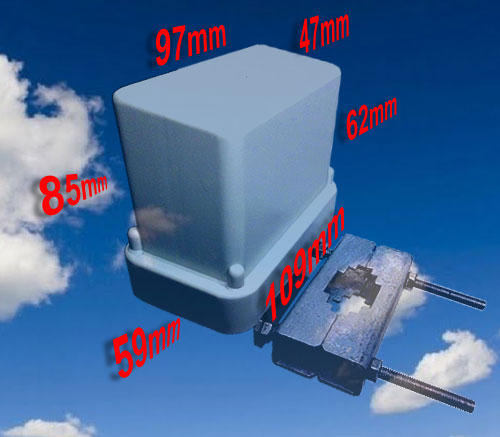 Installation diagram
(click to enlarge)